September 2023
September is the ninth month of the year, it has 30 Days.
Origin
The month name comes from Latin word 'septem' meaning seven, because it was the 7th month in the old Roman calendar.
In 2023, September starts on Friday and ends on Saturday. It has 5 Saturday and 4 Sunday. In September 2022, 1 Indian Public Holidays/Festivals celebrating across the country and Kerala also celebrating apart from this Kerala has Sree Narayana Guru Samadhi on 20th Sep 2022.

Malayalam month Chingam 16 to 31 days are coming in September month as its ending on 16th September and Kanni starting on 17th September. Kanni 14 days completing in September month on 30th September.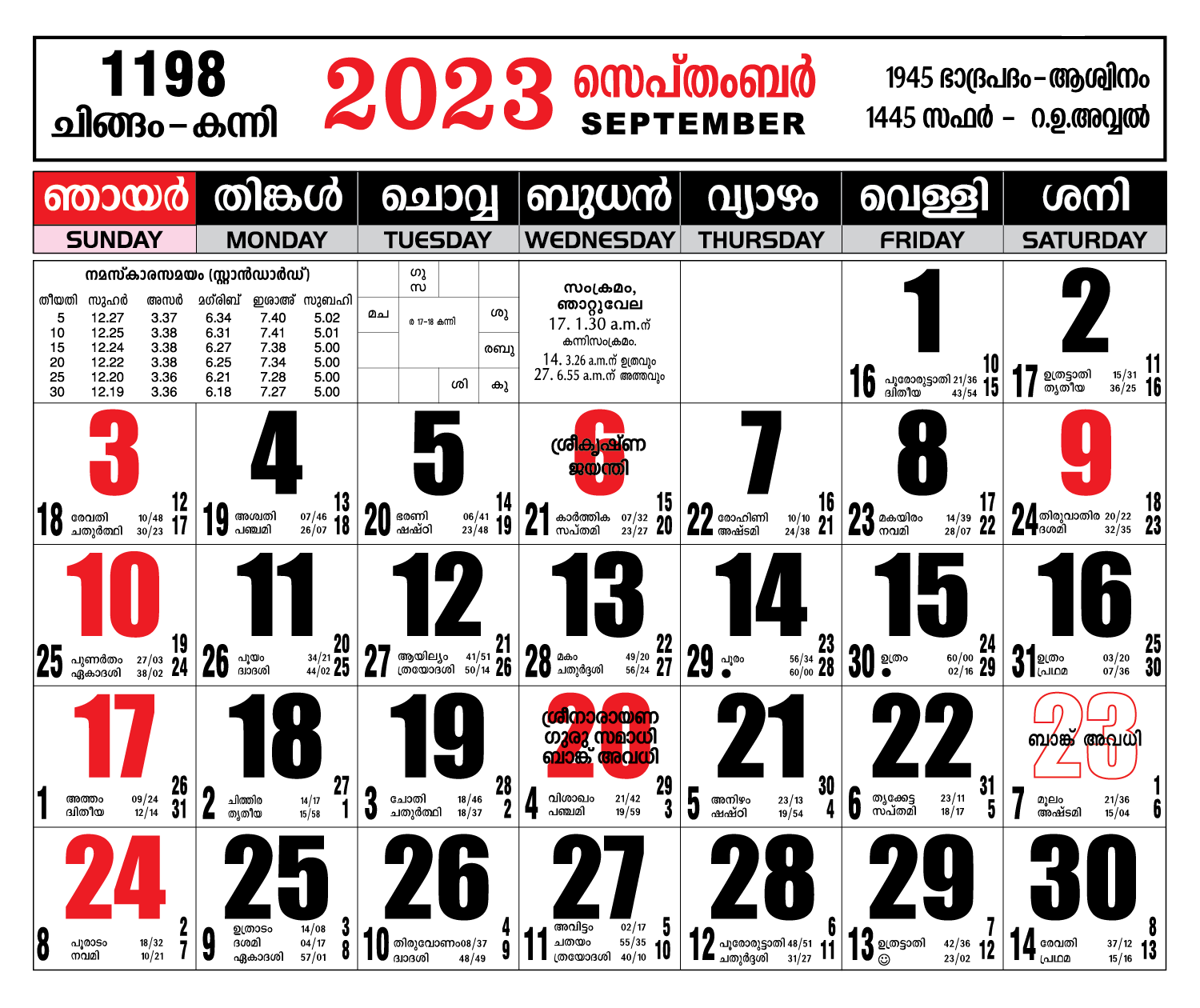 Kerala Public Holidays
20-Sep ശ്രീനാരായണ ഗുരു സമാധി
Previous month Malayalam calendar click below
Jan 2022
Feb 2022
Mar 2022
Apr 2022
May 2022
Jun 2022
KeraIa Important Festivals
20-Sep ശ്രീനാരായണ ഗുരു സമാധി
Important Days
02 Sep: Coconut Day
05 Sep: Teachers' Day
08 Sep: International Literacy Day
14 Sep: Hindi Diwas, World first aid day
15 Sep: Engineers Day, International Day of Democracy
16 Sep: World Ozone Day, International Day for Preservation
21 Sep: Alzheimer's Day, Day for Peace and Non-Violence (UN)
23 Sep: International Day of Sign Languages
26 Sep: Day of Deaf, World Contraception Day
24 Sep: World Rivers Day (4th Sunday of September)
30 Sep: International Translation Day
Previous month calendar click below